High-end doesn't always mean high price tag. It's easy to transform your home with Viewrail cable railing and create the open living space you've always dreamed of. The best part is, there's more than one way to get a budget-friendly cable rail system – find the strategy that works best for you! Here's some tips that can help you plan a cable rail project that stays within your budget.
1. Use Your Own Wood Posts
Take advantage of your strengths. If you already have wood posts, use them! Right now your balusters might be bland or outdated, but they can be easily upgraded to cable railing using Viewrail DriveTite.
DriveTite is the simplest cable rail system on the market, making it perfect for DIYers. Don't worry about drilling special bore holes into your posts, DriveTite is designed to be simple and quick to install.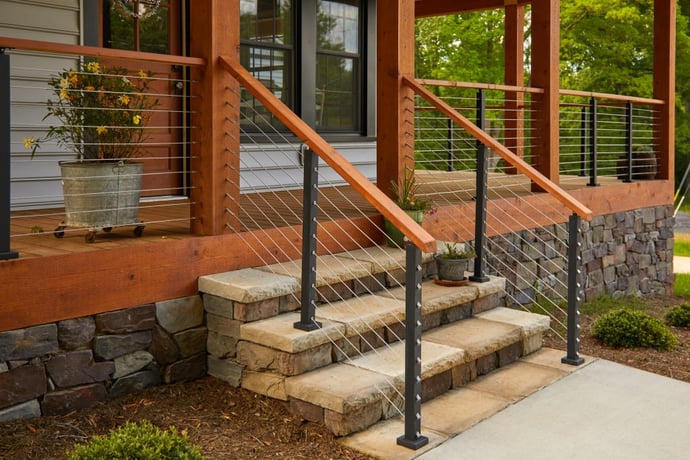 While always clean and simple, cable rail is compatible with a variety of styles, not just high-fashion or industrial designs. Check out how the homeowners above combined pre-existing wood details with cable rail for an elegant design and a warm, homey feel.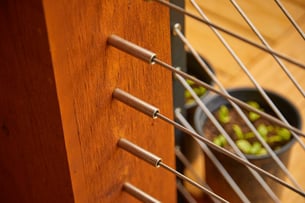 Cable railing is a great way to completely refresh your deck. Reuse your structural posts and open up the view with a few cable railing kits.
As you can see, stainless steel intermediate posts can be added between each wood post to reduce cable deflection, or bending, over longer areas. This is another great solution for adapting to an existing wood post layout.
Even small sections of cable railing can make a big impact on your home. We love how these homeowners used just 3 stainless steel posts on their knee wall to completely upgrade the look of their stairway and kitchen space.
Stainless steel provides a classy, expensive-looking finish – but when you're only using a handful of posts, you'll find that the whole project is more affordable! Plus, installation is a breeze when you only have a few posts to install.
Think creatively about some small-scale projects you could do to transform the space in your home. Look for short stairways, balconies, or a partitioned area. Or, maybe you have a deck that could use a modern upgrade. These spots are great opportunities for small projects that can breath new life into your home.
You never know… That perfect spot for cable rail might be right in front of your eyes!
3. Consider Powder Coated Aluminum Posts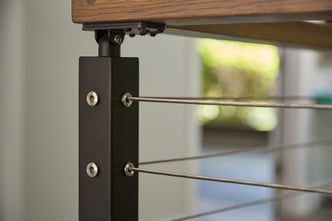 On a budget? Aluminum posts are nearly half the cost of stainless steel, but are still strong and fashionable. Our aluminum posts exceed code requirements for strength and safety, and our powder coating process gives the posts a beautiful finish in a huge variety of colors including classic black, apollo white, copper vein, and many more!
Aluminum posts can be a great option for outdoor applications as well. Our
fluoropolymer
powder coat finish will allow the posts to resist corrosion and withstand the elements.
Aluminum cable railing systems can fit into your budget without compromise. They offer great performance that will preserve your view and your budget!
Get Started!
There are a lot of things to consider when starting a cable rail project. If you like some of the ideas above and want to start planning your own project, download the
Cable Rail Project Guide
. This in-depth resource will help you navigate each step of the decision process. It provides tons of information about posts, components, and handrail, so that you can make the best decisions for your cable rail project!