Stair Parts /

Big Savings, Big Views: Complete a Cable Rail Project Using Your Own Wood Posts
So you want to add cable rail to your home, but you already have perfectly nice oak posts on your deck. Or maybe you love the maple newels on your stairway, but think the overall look needs some updating. DriveTite is a great option for adding cable rail to your existing wood posts for a sleek and modern aesthetic.
Take Advantage of Your Strengths
There are tons of benefits to using your existing wood posts. First of all, you save money… everybody loves that! You also save time… your posts are already there and ready to go. Plus, these posts match the rest of your home, so cable rail transitions smoothly into your established style.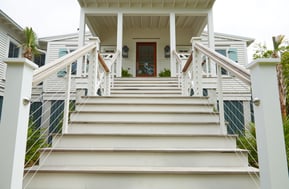 Let's look at a case study. These homeowners added cable rail to their existing painted wood posts at their tropical cottage home. They knew they wanted to keep a warm and welcoming style for their beautiful wrap-around porch, but also needed to improve the safety of their existing wood posts. Maintaining an open appearance was important to them, so cable rail with DriveTite Surface was the perfect solution! They were able to use their existing wood posts, easily adding this system to the porch and stairways. We love the results!
Next, let's see what some homeowners did with classic DriveTite on their deck overlooking the woods. Strong and robust posts span the length of this beautiful outdoor space, the perfect location for Viewrail. Becuase the original wood posts are spaced further than 4' apart, the homeowners used intermediate posts to support against deflection, or bending, of the cable. These extra supports blend seamlessly with the design and ensure a safe family environment.
What is DriveTite?
The simplest solution for homes with wood posts in place is DriveTite Surface. It requires no bore holes, so you can secure it directly to your posts with minimal prep work. Even if you have no experience with cable rail, this system makes you feel like a pro – it's that simple!
Don't worry about sacrificing style for ease of installation. DriveTite Surface is sleek and compact, featuring a simple stainless steel casing to cover the components and keep the design uncluttered. And unlike most other cable railing kits, DriveTite Surface can be installed on hollow or vinyl sleeved posts. It can be used in almost any application.

If you're looking for a flush, fully enclosed wood post system, standard DriveTite is your perfect match. Boreholes are required, but serve a good purpose. When you're done, all of the components are hidden within the post and a stainless steel sleeve covers the borehole for a clean finish.
Both DriveTite and DriveTite Surface provide the Viewrail look you love: elegant, modern, and open-concept.
Yet, as we've seen, each system can also be styled in a variety of ways. Customers and designers think beyond the industrial aesthetic. We've seen cottage looks, rustic designs, homey combinations, and urban arrangements. That's what's fun about cable rail: it's simple and adaptable, making it easy for you to maintain your own style – whatever that may be.
Big Savings, Big Views
The DriveTite and DriveTite Surface systems are quite affordable, especially when paired with existing posts. Depending on the size of your project, you could get the job done in under $1,000. The time commitment might be lower than you expected, too – all you'll need is a few days and some tools from the DriveTite Installation Kit to get the job done.
Interior or exterior, cable rail keeps your views open and your home feeling spacious and modern. Get your project started with the Cable Rail Project Planner or fill out the Cable Rail Design Help form. You'll be proud to show off your handiwork when you're done!