At the heart of many homes, a staircase ascends. Some may overlook this structural centerpiece, but we believe stairways have a statement to make.
FLIGHT floating stairs bring life to outdated spaces. This system knows how to work the room, expressing style and strength as it connects one floor to the next. Clean, minimalist lines draw you in, leaving behind the days of old-fashioned walls and balusters to embrace an open-concept room.
Transform mundane, forgettable stairways into remarkable, artistic installations. Here's what FLIGHT floating stairs could say in your home:
Clean Lines
Achieve simplified design and compliment modern, clean lines with the strength of FLIGHT floating stairs. Each aspect of the design is in place to make the system as durable and streamlined as possible.

A single steel beam, called a monostringer, supports the system and gives the appearance that the stairway is floating in mid-air. Straight FLIGHT systems anchor your room with a simple, straightforward silhouette using only one stringer. No additional supports required.
Discreet tread brackets securely anchor each thick tread in place on top of the monostringer. Posts for your modern railing may be under mounted to the treads. The results? A minimalist stair design that's a breath of fresh air.
Open Concept
Overwhelmed by claustrophobic stairways hemmed in chunky balusters and old, thick carpet? Opt for open-concept and enjoy the freshness of FLIGHT floating stairs. Our FLIGHT systems liberate the room, maximizing natural light – the most precious architectural commodity.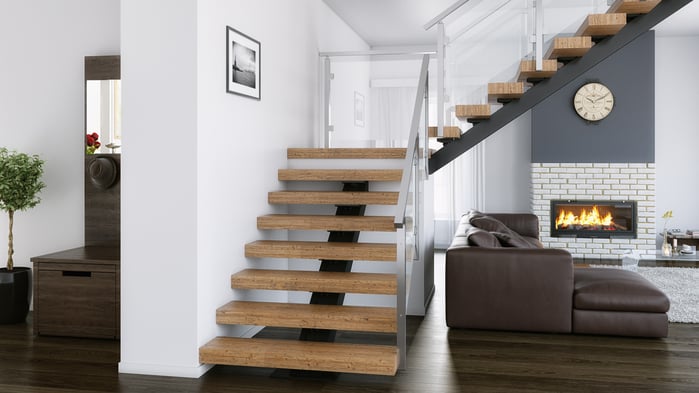 Some homes simply aren't designed to accommodate a straight staircase, but you can still preserve the open-concept design with a 90 Degree FLIGHT configuration. Against a wall or freestanding in the middle of a room, this style adds visual interest and removes the boundaries you used to expect from stairs. With FLIGHT, your space feels limitless.
Artistic
Deny the constraints of traditional stair design and defy the rules of gravity – take FLIGHT with a modern look that will catch the eye of designers and friends alike. Every FLIGHT system is custom designed for your space – it's truly one-of-a-kind!
With FLIGHT, the design possibilities are endless. Let your creativity run wild – choose from over 25 wood species for your treads and handrail, or use metal handrail to coordinate with your aluminum or stainless steel posts. Modern railing infill, like cable, rods, or glass, complete the look.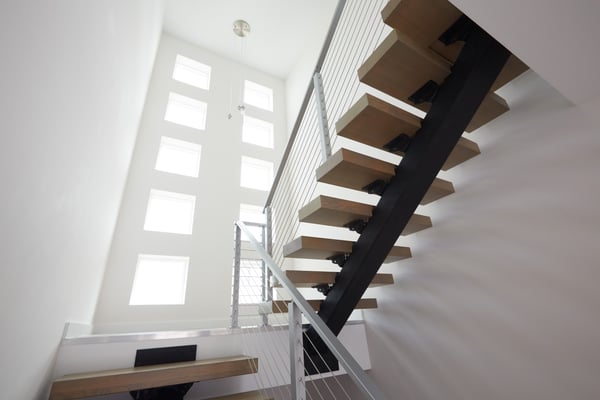 Switchback floating stairs are a unique configuration that inspire creativity and save space in your room. As the name suggests, switchbacks rise halfway to a landing in one direction and pivot at the landing to continue up in the opposite direction. This configuration is unique and evokes powerful beauty for the entire room.
Safety
Style is important, but it only matters if the stairway is safe, strong, and durable. Meeting code requirements for safety is top priority, and we've designed FLIGHT floating stairs to comply with standard building codes. However, we always recommend contacting your local code official before you start any project.
Custom Design
Viewrail FLIGHT is a custom-engineered stair solution that provides strength, elegance, and worry-free installation. See more about FLIGHT floating stairs on our website, or contact our team of stair experts. Visit the Design Center to start the conversation. We'll work together to customize a design that will be the right fit for your space and let your style shine through.