With the winter months finally over and Memorial Day right around the corner, it's time to tackle those long-overdue summer projects. From family reunions to summer barbeques, summer calls for a home that's in tip-top shape.
Of course, these warm months fly by, and not everyone has the time to plan out a whole project from scratch. Thankfully, our customers have already paved the way for you. Explore their projects to find a design that's beautiful and matches your style goals.
As you plan your summer home renovations, browse the projects below to find a look that matches your home's style. There's no better way to spring into summer than by revamping your indoor or outdoor space!
1. Spruce Up Your Space with Cable Rail

Get the look: DriveTite Surface Kit, Stainless Steel Cable, DriveTite Surface Installation Kit
To add a splash of summer to your outdoor porch, look no further than this lovely cable railing project, full of southern charm and bright, inviting tones.
Fresh wood posts are complimented perfectly by sleek cable railing, making this porch the perfect place to host a Memorial Day get-together. Subtle lines keep this space open and relaxed, while DriveTite Surface makes installation a breeze.
We love the way these solid white posts brighten up the exterior, but this project would work just as well with hollow, vinyl, or composite sleeved posts.
2. Expand Your View with Glass Railing
Get the look: Glass Railing Posts, Glass Panels, Handrail, Post Foot Cover
Spend more time outdoors with this beautiful glass system. You'll enjoy the warm summer breeze, but be protected from harsh winds.
A glass system is perfect for outdoor spaces, especially those with waterfront views. Glass clips allow the system to hold up even to harsh weather conditions. Slender glass railing posts provide an attractive accent, tying the whole system together.
Check out our newly updated selection of glass products, available in 2205 Stainless Steel with Tilt Lock technology. No matter which glass system you choose, you'll be mesmerized by the view… and you may never want to come indoors!
3. Add Sophistication with Iron Balusters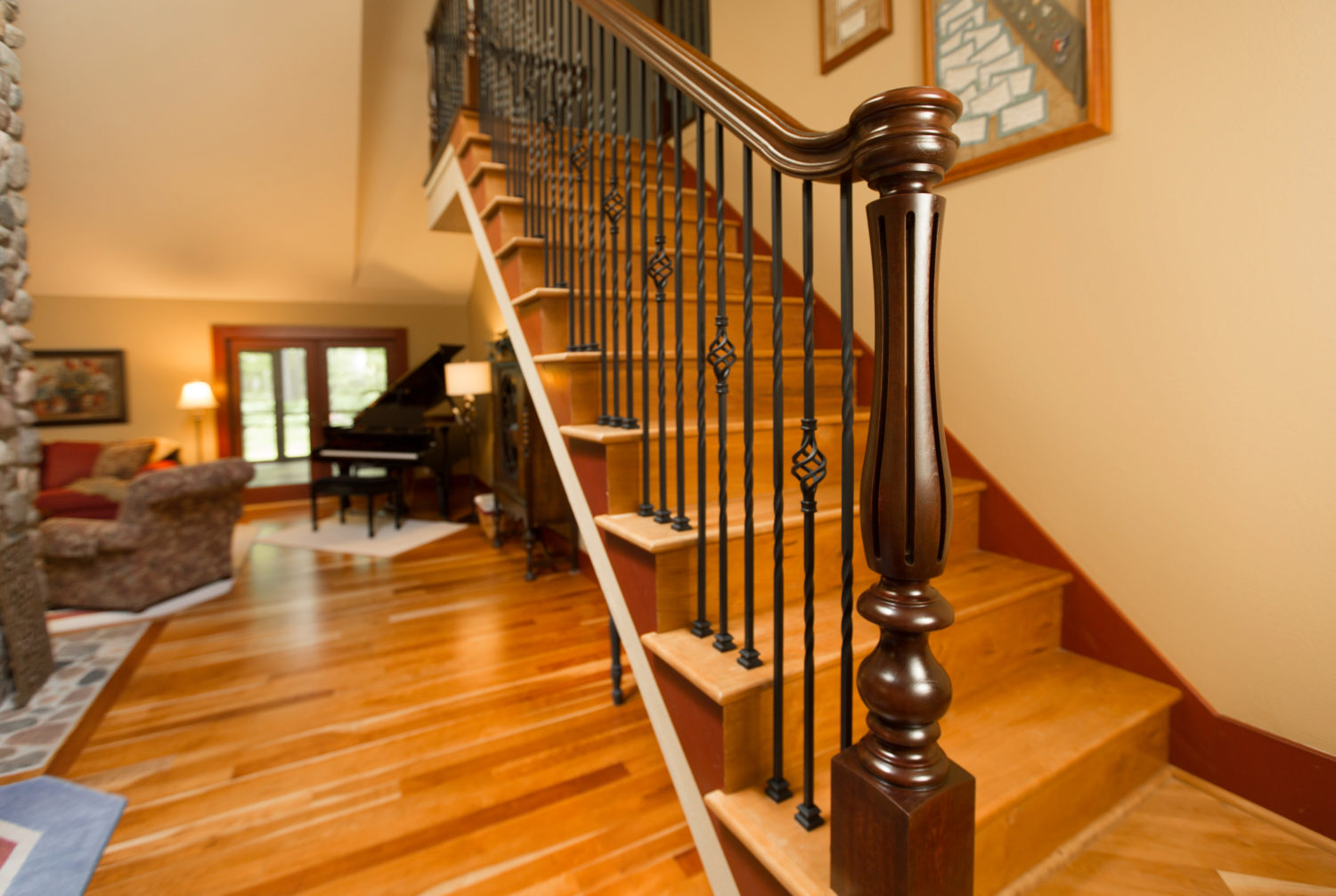 Get the look: Pin Top Fluted Newel, Double Twist Iron Baluster, Single Basket Iron Baluster, Flat Aluminum Shoe, Handrail, Opening Cap
Summer makes us think of long days under the sun, but indoor spaces are just as important during these months. Swapping out old, wooden balusters for new iron balusters is an easy project that provides an immediate facelift to any staircase.
For a truly sophisticated look, combine these sleek iron balusters with classic turned newels. It's a look that will last through all four seasons.
4. Cozy Up with Classic Newels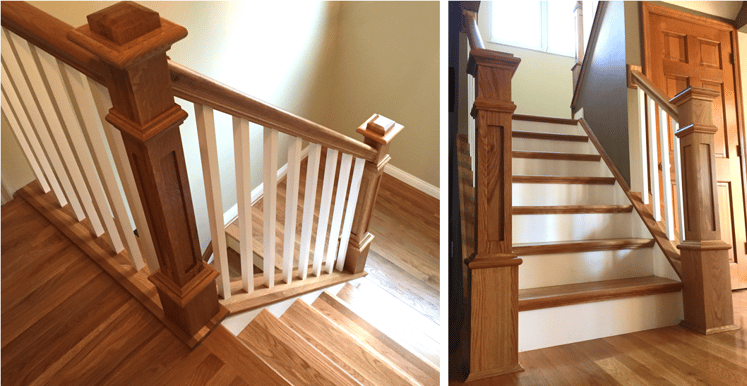 Get the look: Recessed Panel Box Newel, Handrail, Imported Primed Balusters, Standard Knee Wall Cap, Rosette, Stair Treads
Replacing your newels is the perfect way to update a cottage home or lake house. Classic lines and clean panels radiate quality and strength, while keeping the staircase looking fresh.
Pair your box newels with stained handrail, wooden balusters, and treads for an all-around smooth look. Even better, check this renovation off your list by ordering wood balusters that come primed, painted, and ready to install. Convenient for a quick summer project, this look is a classic you're sure to cherish for years to come.
5. Open Airy Views with Floating Stairs
Get the look: 4" Thick Stair Treads, 4" Thick Stair Landing Platforms, Surface Mount Universal Top Square Post, Stainless Steel Cable, Handrail
The details make a bold statement in this small, airy space. Exuding strength and quality craftsmanship, Thick Stair Treads are beautiful from every angle. And aluminum posts coated in black powder match beautifully with slender cable railing for the ultimate in chic, modern elegance.
Open up your home to the airy breeze this summer by swapping out a traditional staircase for thick treads and a sleek handrail. It's substantial beauty even in the smallest spaces.
Found your next project? Get started!
Now that you've found some inspiration, it's time to put these ideas into action. Use the links above to browse through the relevant parts of our website, and customize each part of the project to fit your home.
If you have any questions along the way, our accomplished team of experts is always ready to provide assistance. Whether you add a glass railing system to your porch, update your stairs with cable railing, or install new iron balusters on a staircase, we can't wait to see your final project!