Balusters—or spindles—are more than just the vertical supports for your handrail. They actually play a big part in the look of your stairway. In fact, upgrading your balusters is an easy, cost-effective way to give your railing or staircase a facelift.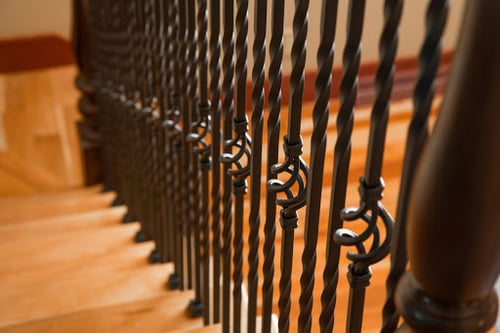 Balusters are made from a variety of materials, including stone, wood, metal, and sometimes even plastic. The type of material you use can make an important aesthetic statement.
Wrought iron balusters, for example, add a classic and elegant twist to an otherwise ordinary staircase.
Although their visual impact is important, balusters also double as a protective guard by closing the gap between a stair's treads and handrail.
Balusters are vital to the safety of your staircase--especially if you have small children or pets. Use this guide to help you calculate how many balusters to buy, and how far apart to space them.
Shop our selection of Iron and Wood Balusters to find the perfect fit for your home.
A Guide to Baluster Spacing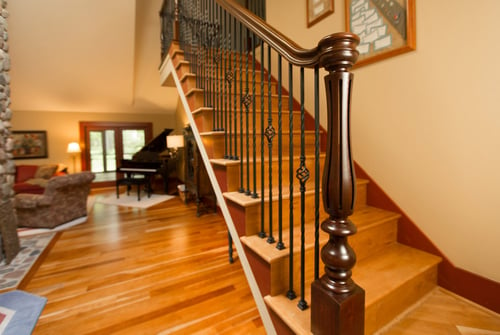 The 2018 International Residential Code (IRC) dictates that a four inch sphere not be able to pass through any plane of your project.
Calculating Balusters for a Balcony
Measure the length of your balcony. Place your tape measure by the wall or newel on one side of the balcony. Measure all the way to the wall or newel on the other side. That's your total distance.
Multiply the total distance by 3. This will tell you how many balusters you need. For example, if the total distance of your staircase is 15 feet, you'd need 45 balusters (15 x 3 = 45). If your total distance is not a whole number, it is important that you always round up.
Calculating Balusters for a Staircase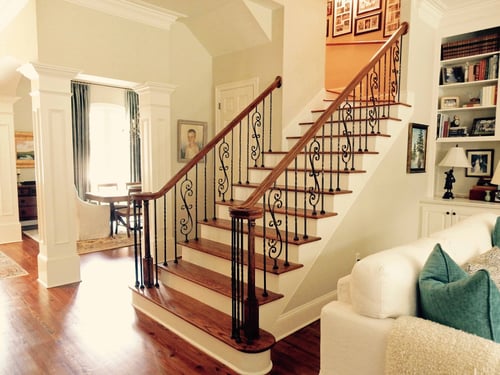 Measure the depth (from back to front) of a single tread. Wondering how to space your balusters? This is where the four inch sphere rule really comes into play. You'll need to make sure that you use as many balusters on each tread as necessary to keep your staircase within code.
Count your total number of treads. Write down this number.
Multiply this number by the number of balusters you need per tread. This will tell you how many balusters you need in total.

If you need 2 balusters per tread, and you have 20 steps, you'll end up with 40 total (20 steps x 2 = 40).

If you need 3 balusters per tread, and you have 20 steps, you'll end up with 60 total (20 steps x 3 = 60).

Double this number if you need balusters for both sides of your stairs.
Frequently Asked Questions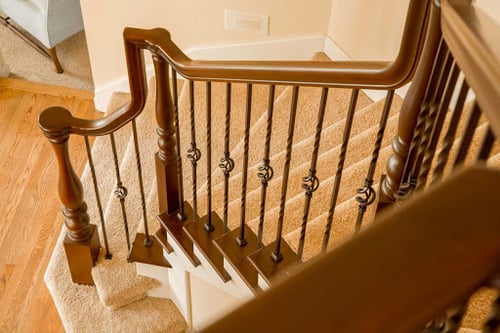 How far apart should my balusters be installed?
The space between the balusters cannot be larger than a four inch sphere.
How is baluster-spacing enforced?
City inspectors use a 4 inch sphere to test the spacing.
Are there any other requirements for baluster installation?
Yes. According to The 2018 IRC, balusters must be able to "withstand 50 lbs of pressure exerted over a 1-square-foot area".
How many balusters do I need?
Again, we recommend putting in three balusters per foot. This will keep the balusters within 4 inches of each other, so you are code-compliant, without cluttering your view.
Enhance Your Stairway with Balusters
There are all sorts of ways to spruce up your staircase using balusters. Many people choose to mix-and-match different baluster profiles for a textured look. Learn more about each baluster style by checking out our Baluster Guide.
If you're interested in seeing what iron balusters could look like in your own project, try using our Iron Baluster Design Tool. You can also download our free Iron Baluster Design Guide. If you have any questions about baluster or post spacing, give our talented team of experts a call. We'll be happy to assist you!